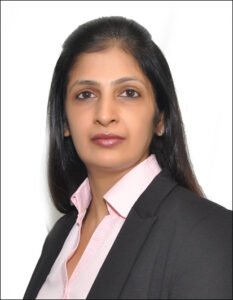 EDUCATION
Certified Public Accountant (CPA) – USA
Post Graduation in Accountancy
Diploma in Training & Development
Certified Administrator of the 16 PF Psychometric Tool
Bachelor of Commerce
AREAS OF EXPERTISE
Accounting & Finance
Monthly compliances & MIS
HR Policies
INDUSTRY EXPERTISE
IT, ITES
Telecom
Manufacturing
Sweta Khandelwal
DIRECTOR – ACCOUNTING & ADVISORY
Sweta is a CPA and a qualified HR professional, with professional experience of over 20 years. She leads the Accounting & Advisory practice at Shah Khandelwal Jain & Associates.
She handles monthly compliances and MIS reporting for subsidiaries of multi-national companies. She has also helped in setting up and monitoring the back office accounting, compliance and treasury functions for clients, and handles the book-keeping and compliance functions of corporates looking to outsource their entire accounting and finance operations.
Being an accomplished corporate trainer, Sweta has instructed over 250 Chartered Accountancy students in the General Management and Communication Skills (GMCS) program conducted by the Institute of Chartered Accountants of India – she leverages her skill set to constantly improve client services at SKJ.
Ever the keen learner, she has also completed the NISM Series V-A Mutual Fund Distributors Certification Examination and is a regular investor in the Mutual Fund and Equity markets.
Sweta is actively involved in social welfare causes through Poona Midtown Ladies Circle 53, a member of Round Table International and FICCI Flo.